DELIFRANCE – Chef Michelin MICHEL ROTH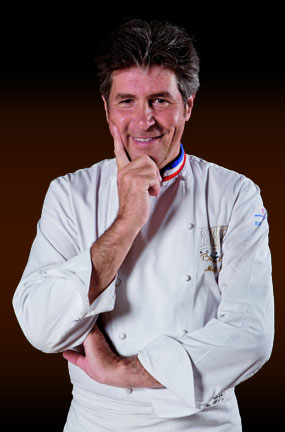 The two stars Michelin, chef Michel Roth, a close associate of Délifrance, was in Athens for two days (21-22/5 ) to demonstrate his creations. A two-day culinary event that included a VIP dinner at the Hotel Grande Bretagne on 21/5/14 and a live creation of sandwiches at the culinary school Le Monde on 22/5/14.
At Hotel Grande Bretagne, the guests had the opportunity to enjoy a full menu suggested by the famous chef in cooperation with the hotel's chef Sotiris Evangelou. The menu consisted of complex and delicate tastes of fish and chicken, however the originality of the menu was that all the dishes were selected to suit and highlight the creative recipes of Délifrance breads.
The next day, guests at Le Monde watched the famous chef in full action creating two sandwiches that go beyond the limits of imagination. The chef used for the creations Mediterranean raw materials.
The first sandwich was the «Crois'sandwich Terroir», a sandwich with strong elements of French tradition with materials such as smoked duck breast and foie gras. The second was the Greek sandwich created especially for the occasion and presented for the first time on 22/5. It was named " Messogea » as it contains a rich palette of Greek vegetables, feta cheese, smoked turkey fillet and herbs.
Both at the dinner and at the creation of sandwiches, Délifrance's products were on the spotlight. First of all, The Bûches des Gourmets: the Multigrain Bûche (pink lentils, quinoa and 3 types of seeds) and the Buckwheat Bûche, with buckwheat sourdough. Two special bread recipes that resulted from the collaboration of Délifrance with Michel Roth. Then, the Crois'sandwich, an excellent baguette-shaped wholemeal multigrain croissant with genuine French butter. This product has been awarded the Great Sirha 2013 Innovation Award, for its originality in the international food exhibition Sirha and with the Superior Taste Award Institute ITQI for its unique flavour.
Délifrance has always focused on developing authentic flavours that embody the French tradition and expertise. This is the reason for the collaboration with Michel Roth, one of the most renowned French chefs and genuine ambassador of French gastronomy. Michel Roth, apart from the two Michelin stars he holds, has won the Bocuse d'Or and holds the title of Meilleur Ouvrier de France. He is also the initiator of many menus in European and Asian restaurants and was the president of the jury at the 10th Global Sandwich Competition of Délifrance, a competition held every two years in the exhibition Sandwich & Snack Show in Paris.